Membership FAQ
1. What are the benefits of joining IFOAM - Organics International?
When you join IFOAM - Organics International you

Are featured in our online membership directory, which will give you visibility in the organic sector, and allow you to connect with like-minded organizations
Enjoy a membership reduction on events organized by IFOAM - Organics International (such as the Organic World Congress), and on our promotion packages
Enjoy a membership reduction on advertising rates in our newsletter, online directory and on our website
Get exclusive access to training manuals and other publications online
Support the further development of organic agriculture worldwide
Strengthen the voice of organic agriculture through our advocacy activities at national and UN level
Participate in decision making about positions and standards for the organic sector
Support the implementation of the Organic 3.0 concept, the tool to implement sustainable agriculture practices e.g. by promoting true cost accounting, continuous improvement and a culture of innovation
When you join IFOAM – Organics International, you join hundreds of organizations from around the world. Together, we have a stronger voice and can build a more sustainable world!
2. How can I apply to join IFOAM – Organics International?
To join IFOAM – Organics International, you need to fill in the online application form or complete the paper version and send it to membership@ifoam.bio. You can submit your application at any time throughout the year.
Your application is complete after being approved by the Executive Director of IFOAM – Organics International, and once you have paid the membership fee and one-off registration fee. The registration fee is 80€. This covers the costs of processing the application and assessing the application against the membership criteria.
3. What is the difference between a Member, an Associate and a Supporter?
To be a Member, more than 50% of your organization's budget/turnover/activities must be related to organic agriculture. In line with the definition of organic agriculture, this is based on the principles of organic agriculture, rather than certification.
If less than 50% of your activities are related to organic agriculture, you may join as an Associate.
Members have voting rights at our General Assembly, which takes place every three years. Associates do not have voting rights, but they enjoy all other membership benefits.
Supporters are individuals, while Members and Associates are organizations. All three categories together are called Affiliates.
4. How can I show my customers/stakeholders that I am a member?
We encourage you to show you are a member of IFOAM – Organics International. You can use this emblem on your:

Letterhead
Website (not in relation to any quality assurance or certification)
Business cards
Information material about the organization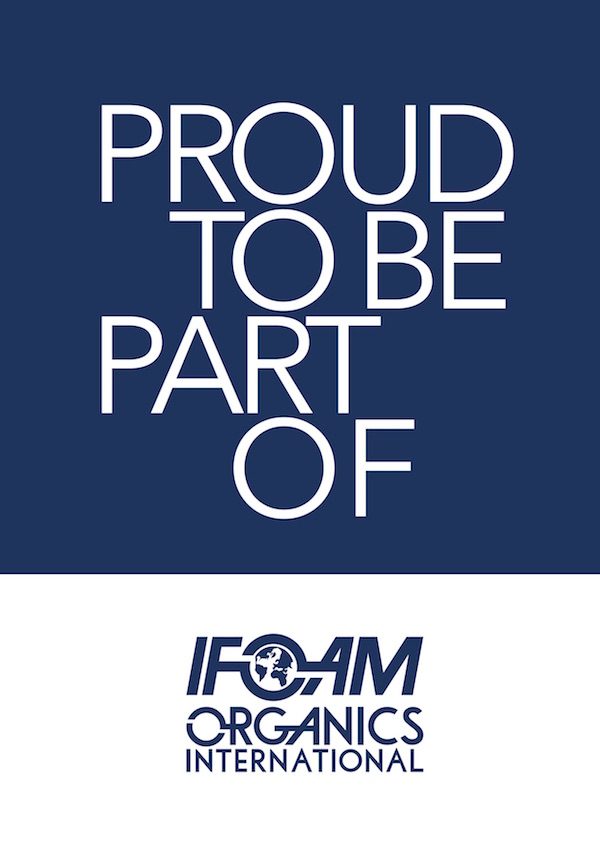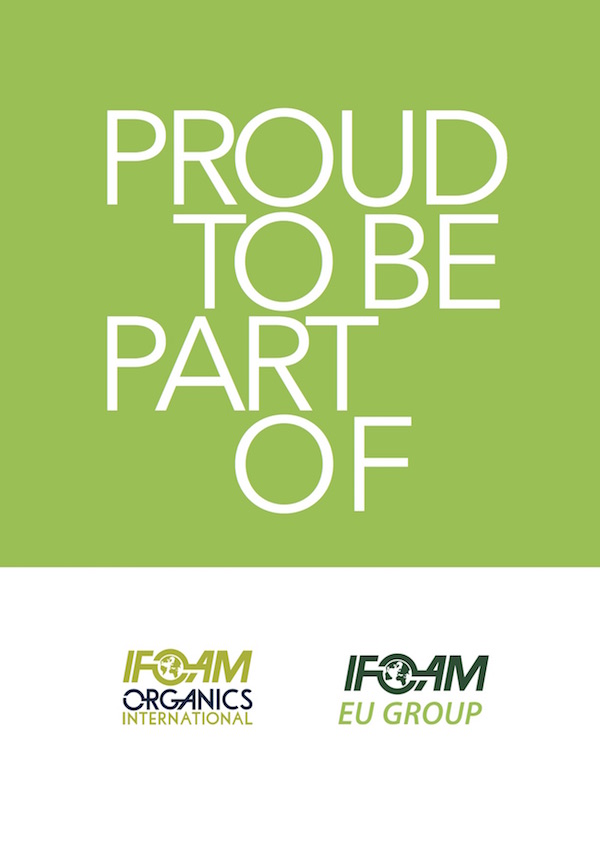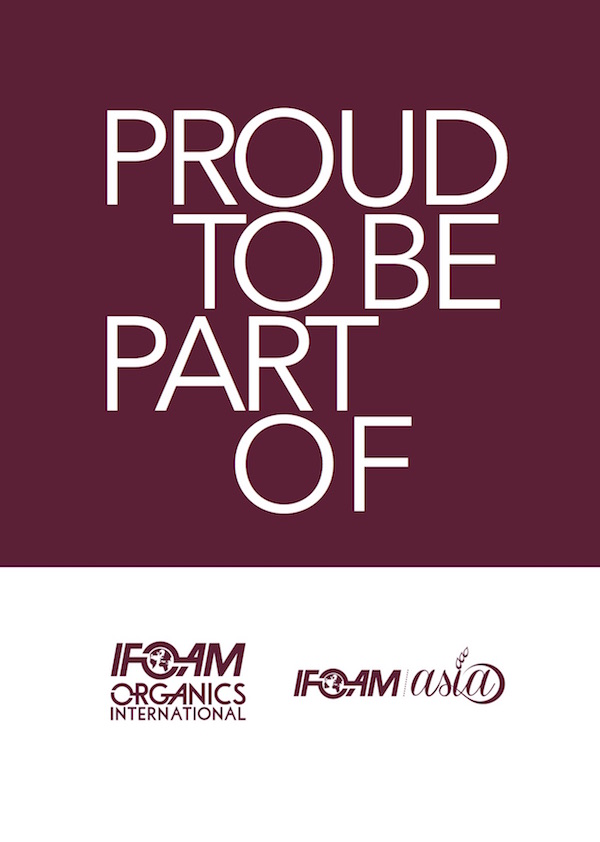 Please note that the emblem must not be used on products.
The IFOAM – Organics International logo must not be used on products (a product mark) nor in any communication material unless specifically authorized by us.

A special agreement must be signed before you make reference to IFOAM – Organics International on event related material. We have a range of options for promotion of participating in events. You can see these event package options here.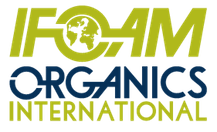 5. How is the annual membership fee calculated?
The membership year runs from January to December, and the invoices for the upcoming year are sent out every December.
The annual membership fee is determined by the General Assembly and is calculated according to the organization's turnover/ budget related to organic activities.
| | |
| --- | --- |
| Budget / turnover | Annual Fee |
| < 50.000 € | 100 € |
| < 200.000 € | 300 € |
| < 800.000 € | 1000 € |
| < 2.000.000 € | 2000 € |
| < 5.000.000 € | 3000 € |
| > 5.000.000 € | 4000 € |
The annual fee for supporters is 100 €, for individuals with non-regular income 50 € per year. The fee for students is 20 € per year.
If we receive your fee payment by February 20th, you'll get a special reduction, the Early Bird Fee. The details of the Early Bird Fee are specified on the invoice.
Individuals or organizations that join from January-June pay the full membership fee; those joining after July only pay half of the annual fee.
6. How can I pay my membership fee?
You can sign-in or request access to our Member Area, where you can make your payment online. You'll also find there bank transfer details as well as your payment history.
7. How can I cancel my membership?
Your membership is renewed automatically each year. You can terminate your membership at any time - coming into force by the end of the year - by sending a written notice of termination to membership@ifoam.bio. Please note that any affiliation fees you have already paid are non-refundable upon membership termination. All rights and duties are in place until the end of the year of cancellation.
8. How can I advertise in the online membership directory?
IFOAM - Organics International advertising rates 2019 (online directory)
Category
# of banners
Normal Rate
3 months
Rate for Affiliates
3 months
Normal Rate
12 months
Rate for Affiliates
12 months
# of Affiliates
per country
Entry Page
1
500
300
1.500
750
All Regions
6
500
300
1.500
750
One Region
1
300
180
900
450
One Country
1
125
75
400
200
> 15
One Country
1
100
60
300
150
< 14 > 5
One Country
1
70
50
200
100
< 4

Please contact membership@ifoam.bio for bookings.